A Rum Named For The Master
Article by CIGAR AFICIONADO
A Rum Named For The Master
By Jack Bettridge
Posted May 8, 2015
After five decades of producing rum, both in Cuba and Panama, Francisco "Don Pancho" Fernandez now has his name on a line of superpremium spirits—Don Pancho Origenes—tailored as a nod to the signature Cuban style and imported by Terlato's Artisan Spirits Division.
Fernandez oversaw the Cuban brand Havana Club until the 1970s when he moved to Panama to blend such noted brands as Abuelo, Zafra, Cano Bravo and Selvarey. The new line comprises an eight-year-old, an 18-year-old and a 30-year-old, all aged in ex-Bourbon barrels.
In following the Cuban style of rum, the spirit is made with molasses (a by-product of sugar cane refinement) and distilled in copper column stills (as opposed to pot distillation). The cane was estate grown and hand-harvested.
The age statements are all based on the youngest rums used in the blends. This follows British and American standards for whiskey. As rum, made in a variety of countries throughout the world, has little regulation, many examples display age statements that define only the oldest spirits in the bottle or an average of ages, not minimum age.
The result is grouping of rums with very rich, viscous flavors well-suited as cigar companions. You may consider the youngest in trio for cocktail making, but it would be a sin with the older two. However, a splash of water or an ice cube will cut their unrelenting sweetness and open up the taste profile a bit.
A Rum Named For The Master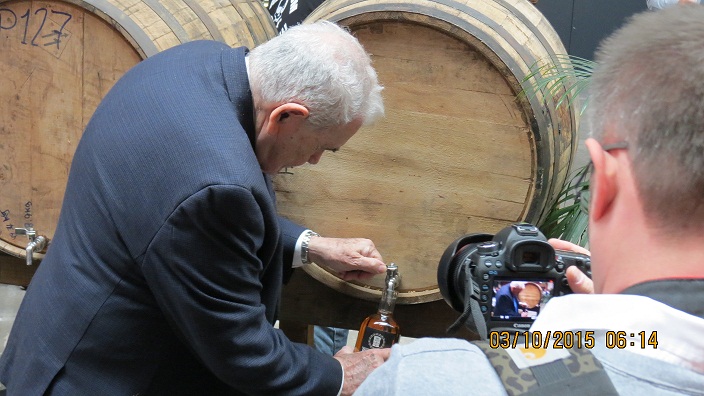 Don Pancho Origenes Reserva Aged 8 Years (80 proof, or 40 percent alcohol by volume; eight years old; $40 a 750-milliliter bottle)
APPEARANCE: Butterscotch color with medium-width quick legs.
NOSE: Brown sugar and butterscotch with peppermint and creamy vanilla.
PALATE: Loads of vanilla barrel notes and butterscotch strike the taste buds at first. Then come inklings of dried fruit and caramel.
FINISH: It has a sort of tight ending that breaks open a bit with hints of spicy molasses.
Don Pancho Origenes Reserva Especial Aged 18 Years (80 proof, or 40 percent alcohol by volume; 18 years old; $90 a 750-milliliter bottle)
APPEARANCE: Maple syrup color with slow skinny legs.
NOSE: A whiff of smoke followed by fruity sweetness, vanilla, caramel and dried fruit.
PALATE: The barrel notes of the younger rum are here in spades. Molasses and maple candy are pervasive. Meaty nuts reside on side palate.
FINISH: A long finale with dark brown sugar and tropical fruits.
Don Pancho Origenes Aged 30 Years (80 proof, or 40 percent alcohol by volume; 30 years old; $425 a 750-milliliter bottle)
APPEARANCE: Cinnamon-stick, cigar-wrapper color. Tediously long, fat legs.
NOSE: The aroma bursts with cocoa powder, Bourbon notes—caramel, maple, vanilla, toffee—and follows with an understated fruitiness.
PALATE: All the Bourbon notes of the nose are here, with the addition of a nutty aspect, some mint and spice, and pronounced molasses. The chocolate is understated, but still pleasant. This edition also presents a lovely leather note.
FINISH: Persists and persists and persists with a parade of the palate flavors, particularly maple.
CIGAR PAIRING: Señorial by José Blanco (5 1/2 inches by 46 ring gauge, $7.00, 90 points, Cigar Aficionado February 2015) There's a powerful blast of spicy black pepper at first as well as zesty cedary notes. The spice mellows a bit to show touches of almond and toasted coconut. The aim with this pairing was to balance the sugary spirit with the spice of the cigar—and hopefully find some synergy with like nutty notes.
With Don Pancho Aged 8 Years: The cigar mellows out the sugar load on the rum somewhat, making it a bit rounder and highlighting the barrel notes. The Señorial gets a welcomed sweetness and opens up some herbal delights.
With Don Pancho Aged 18 Years: The cigar has a similar effect on this rum, but also brings out more of the nutty flavors. The Don Pancho gives back by letting the Señorial open up with rich woods and enhanced spiciness.
With Don Pancho Aged 30 Years: This pairing takes the cake, with both sides arising to the occasion with enhanced flavors. The rum takes off, with its barrel notes (caramel, vanilla, maple) coming to the fore. The coconut and almond on the Señorial start to truly sing out. The Don Pancho's leather aspect adds weight to the cigar's body.